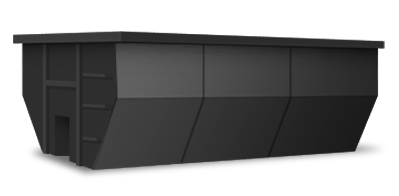 Size: 13' L x 8' W x 6' H
Days: Up to 3 Days
Rent Time Extension: $2/day
Ton(s): 3 included
Extra Weight: $100/ton
Description
Our 20 Cubic Yard Dumpster
A 20 yard dumpster is great for small to midsizemid-size residential projects. It can accommodate projects like a bedroom remodel, basement clean-out or community cleanup. Its footprint is the same as a large SUV and can fit into a parking space on your driveway or within the parking lot of your community.

Dimensions of a 20 Yard Dumpster
The typical dimensions for a 20 yard dumpster are 12 feet long, 8 feet wide and 5 1/2 feet tall. The exact size varies slightly based on when the container was manufactured.
How Much Can I Throw Away in a 20 Yard Dumpster Rental?
A 20 cubic yard dumpster can haul away 90 to 100 33-gallon trash bags, or 5 pickup truckloads!
Our average weight limit for a 20 yard dumpster is 3 tons (6,000 pounds), but a full dumpster can be heavier depending on what you're throwing away. A 20 yard dumpster full of concrete would weigh approximately 31,500 pounds, versus 2,000 pounds when full of wood furniture and household junk.
---
How Much Can It Fit?
33 Gallon Garbage Bags - 90-110
King Size Beds - 3-4
Toilets - 40-60
Desk Chairs - 25-40
Hibachi Barbecues - 15-24
Garbage Cans - 50-70
---
What Else Should I Know About 20 Yard Dumpster Rentals?
We can help you decide if a 20 yard dumpster is the right fit for your project. Tell us about your project and the materials you need to disposed, and we'll point you in the right direction. If we are not the right dumpster rental for you, we can connect you with the one who has the best price for your specific needs.
Give us a call at (614) 219-3431